Description
Paiste PST X Daru Jones 45 Cymbal Pack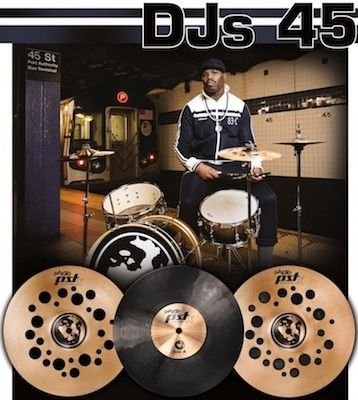 The PST X DJs 45 Set was created in collaboration with the soulful Daru Jones. Always on the go, Daru desired a highly portable cymbal set for hip-hop sessions, DJ Jams, and other sit-ins that spontaneously present themselves, enabling him to preserve his personal sound in modern urban mobility. The concept was developed in the PST X series, which provides a suitable basis for the type of fast and dry sounds that perfectly fit the world of Hip-hop & Electronica percussion. The Crash and Hats Top cymbals feature the characteristic PST X hole pattern. Despite their size all models offer ample volume and projection.

This Paiste Cymbal Set Includes:
12" PSTX DJs 45 Hi-Hats Pair

12" PSTX DJs 45 Crash Cymbal

12" PSTX DJs 45 Ride Cymbal

The Paiste PST X is a complete collection of affordable priced effect cymbals created in collaboration with Paiste and Daru Jones. Being made in Switzerland, which is the backbone of the PST X, the cymbals create a loud, filthy, discordant sound quality through the use of specific patterns and varying hole diameters. The Paiste Signature Cymbal Pack from Daru Jones stands out cosmetically due to it's unique smooth finish. Because of their original design and idea, the metal Purity Bells stick out from the crowd.
Two 12" PST X DJ 45 Hi-Hats (top/bottom), a 12" PST X DJ 45 Crash, and a 12" PST X DJ 45 Ride is included in the PST X DJ 45 Cymbal Bundle.
Each Hi-Hat varies in thickness from narrow at the top to average at the base. It has a pleasant, distinct tone despite its low to medium loudness, washy stick sound, and medium brief sustain. You can use it as an additional hi-hat because of the powerful impact of its arid, feminine tone and vivacious energy. It's a set of cymbals sized at 12 inches intentionally to deliver what seems to have a washy stick sound, vivacious energy, medium brief sustain, and an incorporated bell character. It has a low to medium loudness, a fast reaction, and a brief decline, all at a light weight. Despite its gentle touch, it produces a loud, booming sound with a filthy sparkle, perfect for quick accents. Overall the Paiste PST X Daru Jones SIgnature Cymbal Pack has a medium persistence, an integrated, unique bell character (on the ride), and a brilliant, warm, sharp sound character, a narrow range, and quick edge notes, and it has a reasonably vivacious intensity.
Daru's personal style, both musically and otherwise, led to critical acclaim in top magazines and appearances on national television programs, and his influence and inspiration is reflected in the design and naming of the DJs 45 set, as well as the placement of his Rusic Records label logo on the cymbals.
View All
Close
Features
Sizes: 12"
Weight: Medium
Volume: Medium
Character

Sound color: Medium
Frequency range: Narrow
Frequency mix: Rough/Complex/Rich

Function

Stick Sound: Washy
Response Intensity: Lively
Sustain: Short
Chick Sound: Medium
Feel: Medium
View All
Close
View All
Close