Rogers Dyno-Matic Single Bass Drum Kick Pedal with Case / Bag - RP100
Rogers
SKU:
RP100
|
UPC:
753283302315
Availability:
Usually Ships in 3-5 business Days
Width:
16.00 (in)
Height:
16.00 (in)
Depth:
7.00 (in)
Condition:
New
Rogers RP100 Dyno-Matic Bass Drum Pedal at a Glance:
Chain-drive Single Bass Drum Pedal, for Kick Drums 18"-30" in Diameter, with Two-way Reversible Beater and Carry Bag
There are brand new features that the vintage pedals do not have . . .

This new Rogers bass drum pedal is not only a beautiful vintage inspired pedal but a very functional and well playing pedal. This pedal takes the innovatons the swivo-matic pedal made and furthers them even more with modern technology and materials.
Much more than just a stunning tribute to its famous older brother, the Rogers 'Swivo-Matic' pedal, this unique, precision-crafted Dyno- Matic advances many of the original pedal's pioneering features into the 21st Century. Loaded with user-friendly controls and extra fine- tuning capabilities, the Dyno-Matic is an ultra-versatile, nouveau classic.
FEATURES:
Top-Mounted Spring Adjuster Arm
Height adjustable axle assembly fits 18-30" bass drums
Lever action quick-release
hoop clamp
Quick-Flip
dual surface beater
Extendable pedalboard
Independently Adjustable beater hub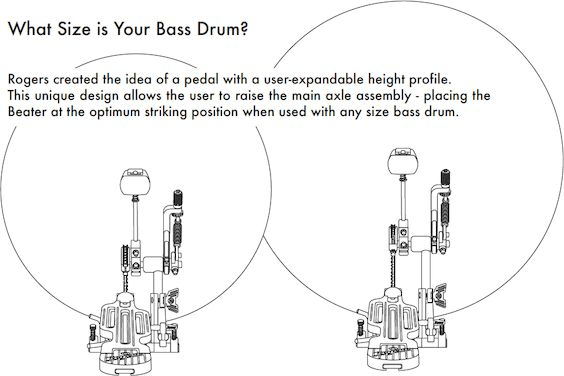 Much more than just a stunning tribute to its famous older brother, the Rogers Swivo-Matic pedal, this unique, precision-crafted Dyno- Matic advances many of the original pedals pioneering features into the 21st Century. Loaded with user-friendly controls and extra fine- tuning capabilities, the Dyno-Matic is an ultra-versatile, nouveau classic -
reverb_shipping_profile:

49.99

reverb_offers:

off

reverb_sync:

force

reverb_upc_does_not_apply:

on