Paiste Color Sound 900 24 inch Mega Ride Cymbal Red - 1922724 CLOSEOUT
Paiste
SKU:
1922724-OPEN
|
UPC:
697643114104
Availability:
Only One Available - Subject to Availability - Full Factory Warranty
Width:
28.00 (in)
Height:
28.00 (in)
Depth:
6.00 (in)
Condition:
New
Type: Mega Ride
Size: 24"
Weight: Extra Heavy
Material: CuSn8 Bronze
Volume: Loud to Very Loud
Sound: Strong, Deep Wash, Piercing
Sustain: Long Manufacturer
Part Number: 1922724
This is an Open Box Display Model featured on the show room floor. Never sold, or owned. Full Factory Warranty applies. May have had a stick to it a few times to demo it in store. Other than that it is brand new stock that will be repacked to factory standards (or better) prior to shipping. Please contact us prior to your purchase with any questions or concerns and see photos for exact condition specifics.

Paiste
24 inch Color Sound 900 Red Mega Ride Cymbal
24" Color-coated Ride Cymbal with CuSn8 Bronze Alloy Formulation - Red
24" bronze alloy ride cymbal with translucent color coating
Ultra-heavy ride with loud to very loud volume and clean note separation
Hand-trued edges and hand-hammered bow produce sharp, cutting tones with great cutting power
Wide-ranging voice with a big, deep wash — hangs on with long, dark sustain
Ultra-heavy, Hand-Hammered Ride with Color Coating
The Paiste Color Sound 900 24" Mega Ride cymbal exhibits a wide-ranging voice, sharp tone, and underlying deep wash. Experience excellent touch sensitivity, along with a more-than-lively intensity. This is an extra-heavy cymbal, so it projects a loud to very loud volume, and its massive bell sings with a pronounced and energetic ping. The Color Sound 900 Mega Ride produces clean note separation and resonates beautifully with a long, dark sustain. And of course, its luminous translucent finish is sure to garner lots of attention.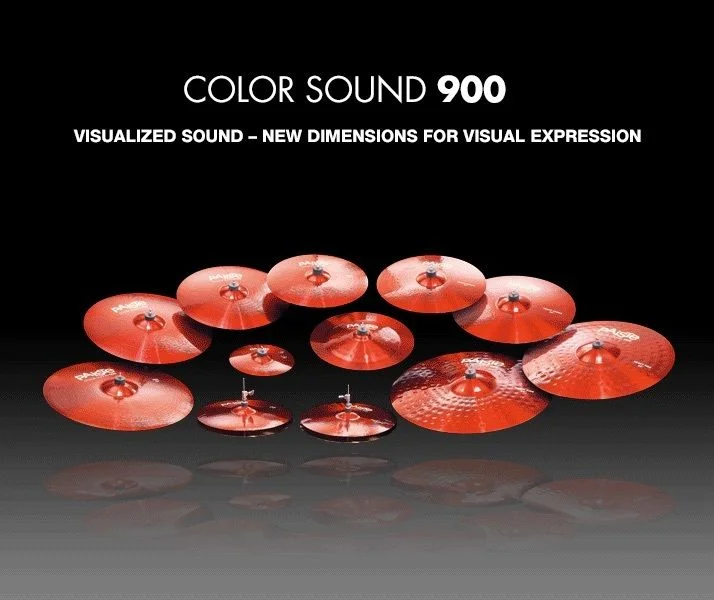 Color Sound 900 — experience new dimensions of visualized sound
Based on Paiste's 900 Series cymbals, the Color Sound 900 Series yields a slightly drier sound with shorter sustain. Otherwise, you can expect the same great sound and flexibility. The translucent color-coated finishes on these cymbals are positively radiant. They maintain the natural appearance of the cymbals, including the grooves and hammer marks. Best of all, the color coating is specially formulated to resist cracking, chipping, and peeling. Drummers here at Sweetwater use 900 Series cymbals to color-coordinate their cymbals with the rest of their drum kits, match their stage decor, and create a custom look under the lights.
Paiste — a history of visual expression
The Color Sound 900 Series isn't Paiste's first foray into color-coated cymbals. In 1984, Paiste stunned the industry with their Colorsound 5 Series. When the '90s rolled around, the Visions Series hit the scene. And more recently, Paiste unveiled their Artist Inspiration models, such as Stewart Copeland's Blue Bell Ride, Aquiles Priester's Giga Bell Ride, and Danny Carey's Dry Heavy Ride. Also, top drummers such as Joey Jordison, Tico Torres, and Paul Bostaph have custom color-coated cymbals.
Paiste Color Sound 900 24" Mega Ride Features:
24" bronze alloy ride cymbal with translucent color coating
Ultra-heavy ride with loud to very loud volume and clean note separation
Hand-trued edges and hand-hammered bow produce sharp, cutting tones with great cutting power
Wide-ranging voice with a big, deep wash — hangs on with long, dark sustain
reverb_shipping_profile:

49.99

reverb_offers:

off

reverb_sync:

force

reverb_condition:

Mint