Offset Eclipse Double Bass Drum Kick Pedal, Symmetrical, Dual-chain Drive, Reversible Beaters
Offset Pedals
SKU:
ECLIPSE
|
UPC:
860268000606
Width:
181.00 (in)
Height:
9.00 (in)
Depth:
8.00 (in)
Condition:
New
Symmetrical design yields improved ergonomics and performance
Lets you position your kick and snare in a straight line
Increased comfort and stability
Uniform tone between beaters
Better stereo imaging miked up
Stable free-standing central pedestal design
Continuously adjustable cam can be tuned for speed or power
Smooth dual-chain action — convertible to direct-drive with optional kit (sold separately)
No Case/Bag (Sold Separately)
Large footboards accommodate all playing styles Covered U-joints deliver long-lasting great performance Reversible hard/soft beaters included
Offset Eclipse Double Bass Drum Pedal
Symmetrical Double Bass Drum Pedal with Dual-chain Drive and Reversible Beaters
Symmetrical Double Pedal Yields Improved Ergonomics and Performance
The OffSet Eclipse single and double bass pedal offers a radical new way to orientate your drums and hardware. Unlike traditional in-line double pedals, which force you to compromise tone and playing style for ease of setup, the Eclipse unlocks a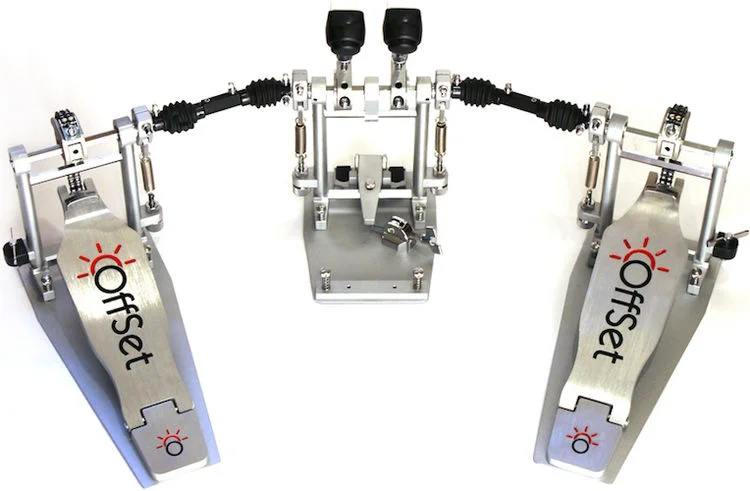 playing experience unlike anything else on the market. The Eclipse's dual offset footboards flank a free-standing central pedestal that mounts safely to any standard bass drum hoop, for unmatched ergonomics, increased stability, and a consistent attack between beaters. Now you can align your kick and snare drums in a straight line for more comfortable performance, increased session longevity, and better stereo imaging with modern miking techniques. The symmetrical design is just one of the reasons we feel the Eclipse is a game changer. Oversized footboards, a continuously variable cam design, and a convertible chain/direct drive system equip the OffSet Eclipse pedal for the most demanding drummers on the planet!
Benefits
Improved ergonomics
Ergonomics — the way you sit behind your kit — can have a huge impact on technique, dexterity, longevity, and overall health. The OffSet Eclipse double pedal makes it possible to align your kick drum directly in front of your snare and rack toms for improved comfort and greater access to all the pieces on your kit.
Uniform sound
Another advantage of the OffSet Eclipse is that it positions both beaters equidistant from the batter head's center point, resulting in an even tone between strokes. This becomes critical for miking up onstage or in the studio, the Eclipse delivering trigger-like evenness with every attack. A full inch of L-R adjustability lets you position each beater in your head's sweet spot.
Enhanced stereo imaging
Common practice in miking up a drum kit is to position the kick and snare drum dead-center in the stereo field, with toms, cymbals, and percussion positioned left to right to taste. Traditional drum setups prove challenging due to the kick and snare being slightly offset in the overhead mics. But not so with the OffSet Eclipse. Now it's possible to position your kick and snare in true center for enhanced stereo legibility.
Design
Free-standing pedestal
The OffSet Eclipse's free-standing design yields increased stability and performance. A swivel hoop clamp, which eliminates lateral torque, protects bass hoops from damage.
Class-leading boards and joints
The Eclipse's 12.5" x 3.5" footboards are some of the largest in the industry. The increased size accommodates players of all sizes and techniques: heel-up, heel-down, or heel-toe. Likewise, large covered 7/16" tempered U-joints keep the Eclipse in prime playing condition for long-lasting great performance.
Continuously adjustable cam
Thanks to its Radius Adjustable Drive Wheel, the OffSet Eclipse double pedal can be tuned for precision speed or devastating power. The integrated drive wheel adjusts continuously from 1.5" to 3" using a standard drum key — there are no parts to remove, install, or keep track of.
Convertible dual-chain action
Drummers enjoy the OffSet Eclipse's smooth dual-chain drive, which responds quickly and fluidly underfoot. Players who are looking for tighter tolerances can easily modify their Eclipse with OffSet's optional Direct Drive Conversion Kit (sold separately).
OffSet Eclipse Double Bass Drum Pedal Features:
Symmetrical design yields improved ergonomics and performance
Lets you position your kick and snare in a straight line
Increased comfort and stability
Uniform tone between beaters
Better stereo imaging miked up
Stable free-standing central pedestal design
Continuously adjustable cam can be tuned for speed or power
Smooth dual-chain action — convertible to direct-drive with optional kit (sold separately)
Large footboards accommodate all playing styles
Covered U-joints deliver long-lasting great performance
Reversible hard/soft beaters included
reverb_offers:

off

reverb__shipping_profile:

19.99